With every idea, some goofing around must be needed of course.

No autocad or 4 bar simulation on this one, this time.

Popsicle mechanics !!!!!!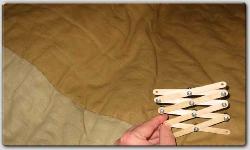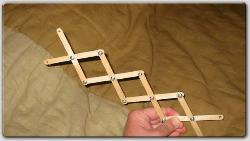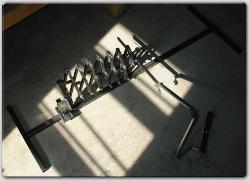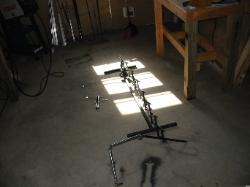 Mark I version 5-2-09 "SCRAPPED"
My original idea was to keep the mechanism inside the ground breaker torso.
It was also going to lay face down into the grass, raise up, and then leap
forward.

It was just too much a pain to try and keep compacted and too much linkages
to get the leap distance.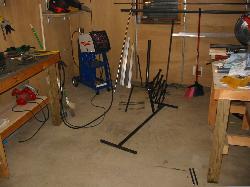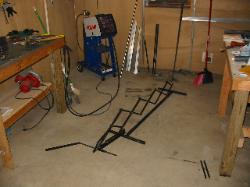 Mark II version 5-16-09
As said, I scrapped the internal version and redesigned to have the scissor
mechanism located behind the torso. Decided to kill the idea for now on the
raising and lowering of the torso from and to the ground.

yes, I spend much time playing with the popsicle scissor toy. I liked the scissor
action and then dawned on me how to move the torso to the front and keep it
solidly mounted and follow the scissor angular movement.

The larger scissor mechanism is much nicer and have the arm raising and
lowering worked in with the leap action.

Mark II version 5-25-09
Added rotary actuator, I haven't used these in awhile and thought this project
would be a good match for actuating the scissor mechanism.

Also, added a 1" stroke air cylinder to tilt the head down and up.

Mocked up the arms for their appropriate movement.